Character Descriptions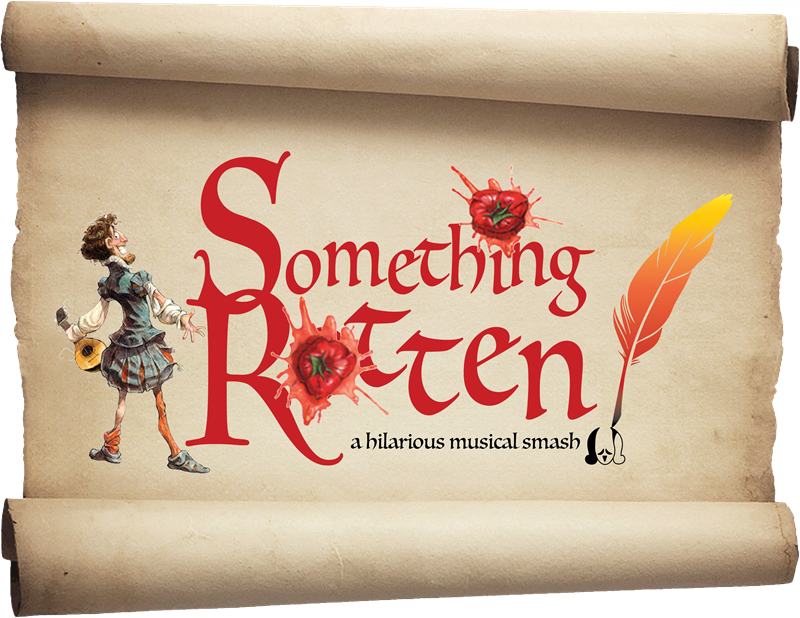 Sunday, June 25, 2023 at 7:30pm
or
Monday, June 26, 2023 at 7:30pm

Callbacks: Tuesday, June 27, 2023 at 7:30pm

Directed by Steve Isaacson
Choreographed by Kat Fio & Kyle Jackson
Musical direction by Boris Karpuk
Opens Friday, September 8, 2023
---
Plot Synopsis
Something Rotten! (9/8/23-10/1/23) Welcome to the 90's, 1595 to be exact! Something Rotten takes place in 1595 London, England. The Bottom brothers, Nick and Nigel are trying to find success by writing plays, but are outshined by the rock-star playwright of the Renaissance, William Shakespeare.

Desperate to find success Nick gets help from a soothsayer for the next big hit. Recommended for the Entire family
---
All Roles Open
Role
Description
Nick Bottom

A struggling renaissance writer at the end of his rope. Nigel's older brother. Incredibly jealous of the success of William Shakespeare and will do anything to beat him. Great comedic actor who sings, tap dance skills a plus

Nigel Bottom

Nick's younger brother. A sweetly naive young writer and poet, perhaps a little awkward. Sweet and a little awkward. He falls in love with Portia and ultimately finds confidence in himself through art and love. Great comedic actor who sings very well.

William Shakespeare

A Renaissance rock star. Think Mick Jagger. Great comedic actor with a killer pop/rock voice. Tap dance skills are a plus.

Nostradamus

A soothsayer who almost sees the future correctly. A bit looney. He predicts that Nick and Nigel will write a musical. Great comedic actor who sings and moves well.

Bea Bottom

Nick's wife and "Right Hand Man". She loves and supports him despite his questionable decision making and lack of success. Bea resorts to dressing up like a man to make ends meet and to prove to Nick she can be an actor. Great comedic actress who sings very well.

Portia

An adorably quirky Puritan girl whom Nigel meets on the street. They fall madly in love with each other over their mutual love for Shakespeare and poetry. Great comedic actress who sings very well.

Brother Jeremiah

Portia's father. A Puritan with deeply repressed homoerotic tendencies. He despises playwrights, poets and all things ungodly. Great comedic actor who sings.

Minstrel

The fun-loving charismatic narrator of the show. Sings the opening number of each act. Sings and dances well.

Shylock

An older Jewish man. Nick and Nigel are in debt to him. He becomes an investor in their musical. Good comic timing. Sings well.

Lord Clapham

Older male. Patron of the theatre. He's flamboyant and extremely posh. Sings well.

Ensemble

Ensemble, All Genders, ethnicities and body types, Range: SATB

Seeking traditional dancers and quirky character types who are strong singers and dancers (tapping a plus).